New Publication: Pernia and Panao, Delegative democratic attitude and public opinion on human rights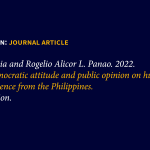 Associate Professor Rogelio Alicor L Panao and Assistant Professor Ronald Pernia (University of the Philippines Cebu) recently published a journal article entitled, "Delegative democratic attitude and public opinion on human rights: empirical evidence from the Philippines" in Democratization.
The abstract reads:
Why do citizens in post-authoritarian democracies perceive that there is high respect for individual human rights in their country when objective indicators suggest differently? Drawing on multiple individual-level opinion data and using Philippines as an illustrative case, this study hypothesizes that delegative democratic attitude (DDA) (i.e. operationalized as support for strong executive with minimal legislative intervention) shape citizen's perception of human rights respect. Despite reports of higher levels of human rights violations in the country which should have led to more negative appreciation of human rights protection, citizens with DDA are more likely to regard that individual human rights are respected and protected. We theorize that citizens form dissimilar perception of human rights protection based on their desire for quick fixes and decisive action which could have made citizens less rigid and more tolerant with their evaluation of government actions. This would then make them paint a less than horrible image of the human rights protection in their country although it may not be reflective of the true state of affairs objectively. Given the Philippines' longstanding authoritarian legacies and struggles with democratic consolidation, our study sheds light to the enduring appeal for personalist rule in the contemporary political world.
Ronald A. Pernia and Rogelio Alicor L. Panao (2022) Delegative democratic attitude and public opinion on human rights: empirical evidence from the Philippines, Democratization, DOI: 10.1080/13510347.2022.2141229
Read the full article on the journal's website: Delegative democratic attitude and public opinion on human rights: empirical evidence from the Philippines