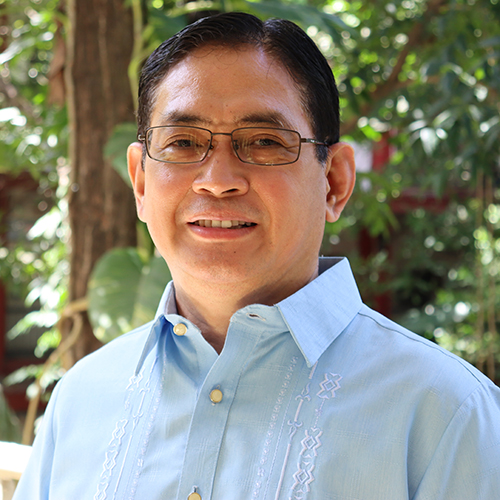 Jaime B. Naval, MPP
Assistant Professor
jbnaval@up.edu.ph
Jaime B. Naval is a tenured assistant professor at the Department of Political Science, University of the Philippines in Diliman. He was one of the top 100 professors at the UPD Great Ideas Survey of SY2010-2011.
Prof. Naval graduated class valedictorian from elementary to high school, and even as he completed his Master in Public Policy jointly managed by the National University of Singapore under a Lee Kuan Yew-Temasek scholarship and the Harvard University's Institute for International Development. He has been a visiting fellow at the East-West Center's China Studies Program, a Fulbright scholar on National Security Policy Making, and a visiting fellow in China in the joint East-West Center-China Ministry of Education program. Prof. Naval is recently named a recipient of competitive Taiwan Fellowship Programme.
He has represented the country on issues relating to public policy, political dynamics, comparative politics, regional security and strategic management. He is a keen observer of ASEAN affairs, Chinese politics, East-Southeast Asia relations and major power dynamics. Prof. Naval has served at the Philippines' National Security Council. He is actively involved in Track 2 discourses on the South China Sea.
Prof. Naval has been consultant, resource person, trainor or affiliate of various business, government, non-government, and other cause-oriented entities (e. g. Clark Development Corporation, Foreign Service Institute, Armed Forces of the Philippines, Department of Health, Abot-Kamay, Institute for Maritime Affairs and the Law of the Sea, Japan's NEC Corporation, Institute for International Legal Studies, and, Pacific Rim Innovation & Management Exponents,Inc.).
He is founding president and chairman of Optimus Center for Development, Inc., a leading non-stock, not-for-profit, advocate and provider of quality regular and special education in the Philippines.
Prof. Naval served as Philippine coordinator of the first-ever ASEAN university students' survey and led the UP System's ASEAN Integration Project. He is a fellow at the Strategic Studies Program of the UP Center for Integrative and Development Studies (UP CIDS), an active member of the Philippine Political Science Association (PPSA), and a lifetime member of the Philippine Association for China Studies (PACS).
Education
Master in Public Policy (Temasek Scholar & Class Valedictorian). Harvard Institute for International Development ~ Centre for Advanced Studies (HIID-CAS), Faculty of Arts and Social Sciences, National University of Singapore, Singapore (November 1995).

Major Areas: (1) Managing Organizations; (2) Development and Government Policy; (3) International Relations; and (4) Economics.

Master of Arts in Political Science (Senior Standing). University of the Philippines, Diliman, Quezon City. (June 1989 to June 1994)

Major Areas: (1) International Law, Organization and Relations (2) Foreign and Comparative Governments and Politics: and (3) Political Theory and Methodology
Research Interests
ASEAN affairs, Chinese politics, East-Southeast Asia relations, Major power dynamics, Leadership and governance
Recent Publications
Naval, Jaime. "Solidum: a seer of Southeast Asia and beyond." Philippine Political Science Journal, 39:2 (2018): 136-138.
Kraft, H. J., Batongbacal, J., Cainghog, N., and Naval, J. "In defense of the Philippines: Assessing the factors affecting the country's external defense environment." Public Policy, 12 (2014): 68-113.
Courses Taught
Social Science 2: Social, Economic, and Political Thought
Political Science 131: Southeast Asian Politics
Political Science 167 (Government and Politics of China)
Political Science 177 (Special Topics: Government and Politics of China and Indonesia)