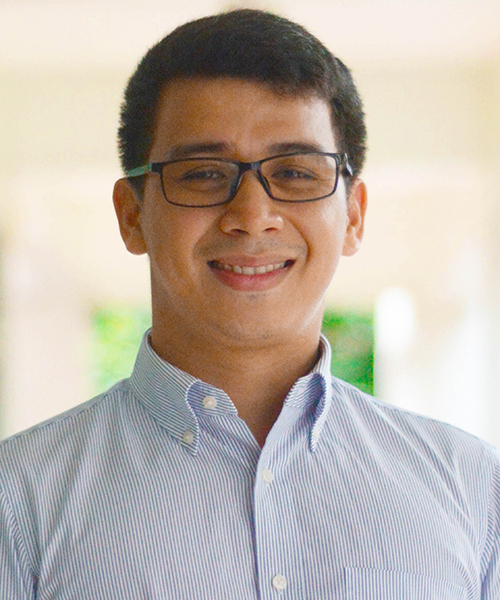 Jan Robert R Go is an assistant professor of political theory at the Department of Political Science, University of the Philippines Diliman. He is the managing editor of the Philippine Political Science Journal (PPSJ), the internationally refereed journal of the Philippine Political Science Association (PPSA), since 2014. He was coordinator of the College of Social Sciences and Philosophy (CSSP) Computer Laboratory from August 2017 to August 2018. He obtained his Bachelor of Arts (Political Science) degree from UP Manila, and Master of Arts (Political Science) from UP Diliman. In 2017, he attended the Chinese Language Summer School at Peking University in Beijing, China. He is currently on study leave for his doctoral studies in political theory at the Central China Normal University in Wuhan, China.

Assistant Professor Go handles courses on social, economic, and political thought; Philippine politics and government; the Philippine executive; society, politics, and government; qualitative research methods; and, Philippine and Asian political thought. His areas of interest include decentralisation and devolution, local political leadership, local citizen participation, the politics of educational reforms and governance, the new institutionalism in political science, Chinese diaspora, and politics of China.

He has been involved in research projects on health and re-election, rapid field appraisal of local government units, and money politics in elections, poverty alleviation in the wake of Typhoon Yolanda (Haiyan), among others. He is also working on several papers on identity politics and the Chinese diaspora in the Philippines and Southeast Asia. At present, he part of a team assessing the 1987 Constitution of the Philippines. Having taught several courses on political theory, he is currently engaged in research in non-Western political theory.

Before joining the University, he worked at the Emergency and Humanitarian Action unit of World Health Organisation Regional Office for the Western Pacific.
Education
Master of Arts (Political Science), University of the Philippines, Diliman, 2013.
Bachelor of Arts (Political Science), University of the Philippines, Manila, 2009.
Research Interests
Decentralisation and devolution; local politics; new institutionalism in political science; non-Western political theory; Chinese politics
Courses Taught
POLSC 11: Introduction to Political Science
POLSC 14: Philippine Government and Politics
POLSC 111: Qualitative Research Methods in Political Science
POLSC 120: Introduction to Political Theory
POLSC 137: Special Topics in Comparative Politics (China)
POLSC 151: The Philippine Executive
POLSC 160: Society, Politics, and Government
POLSC 161: Political Parties and Interest Groups
POLSC 167: Special Topics in Political Dynamics (Education)
POLSC 125/195: Asian Political Thought
POLSC 126/196: Philippine Political Thought
Soc Sci 2: Social, Economic, and Political Thought
Recent Publications
Go, Jan Robert R. 2019. 'Elections under the 1987 Constitution'. In Chronology of the 1987 Philippine Constitution, edited by Maria Ela L. Atienza. Quezon City: UP Centre for Integrative and Development Studies, 13-18.

Go, Jan Robert R. and Jean Encinas-Franco. 2019. 'The Power of Impeachment'. In Chronology of the 1987 Philippine Constitution, edited by Maria Ela L. Atienza. Quezon City: UP Centre for Integrative and Development Studies, 45-51.

Go, Jan Robert R. 2019. 'Implications for Governance and Future Policy'. In Rebuilding Disaster-Affected Communities for a Sustainable Future: Lessons and Policy Recommendations for Poverty Alleviation from the Typhoon Yolanda Experience, edited by Maria Ela L. Atienza. Quezon City: UP Centre for Integrative and Development Studies, 31-35.

Go, Jan Robert R. 2018. 'Claro M. Recto'. In Twentieth Century Philippine Political Thinkers: Selected Readings, edited by Jorge V Tigno. Quezon City: University of the Philippines Press, 406-412.

Go, Jan Robert R. 2018. 'Transforming local government'. Review of Ma. Regina M. Hechanova, Mendiola Teng-Calleja, and Edna P. Franco's Transforming Local Government. Philippine Journal of Public Policy: Interdisciplinary Development Perspectives 129-133.

Go, Jan Robert R. 2018. 'Tulong: an articulation of politics in the Christian Philippines'. Review of Soon Chuan Yean's Tulong: an articulation of politics in the Christian Philippines. Philippine Political Science Journal 39 (1): 69-71. DOI: 10.1080/01154451.2018.1515053

Go, Jan Robert R. 2017. 'Of choices, changes, and challenges: the Philippines in 2016'. Philippine Political Science Journal 38 (1): 48-73. DOI: 10.1080/01154451.2017.1330022.

Go, Jan Robert R. 2016. 'Political Leadership and Education Politics: the Mayor and Education Services in Nasugbu, Batangas'. Philippine Political Science Journal 37 (2): 111-134 . DOI: 10.1080/01154451.2016.1193987.

Go, Jan Robert R. 2015. 'KRA 5: Integrity of the Environment and Climate Change Adaptation and Mitigation'. In Assessing the Tuwid na Daan: Focus on the Five Key Result Areas, summarized by Rogelio Alicor Panao and Jan Robert Go. Quezon City: UP Center for Integrative and Development Studies, 46-54.

Go, Jan Robert R. 2015. 'KRA 2: Poverty Reduction and Empowerment of the Poor and the Vulnerable'. In Assessing the Tuwid na Daan: Focus on the Five Key Result Areas, summarized by Rogelio Alicor Panao and Jan Robert Go. Quezon City: UP Center for Integrative and Development Studies, 12-22.

Go, Jan Robert R. 2015. 'The Chinese Question: Ethnicity, Nation, and Region in and beyond the Philippines'. Review of Caroline S. Hau's The Chinese Question: Ethnicity, Nation, and Region in and beyond the Philippines. Philippine Political Science Journal 36 (1): 115-118. DOI: 10.1080/01154451.2015.1033131

Go, Jan Robert R. 2014. 'The Rhetorics of Sin'. Review of Mary Jeanette L. Pinzon's The Rhetorics of Sin. Philippine Political Science Journal 35 (2): 117-119. DOI: 10.1080/01154451.2014.907763