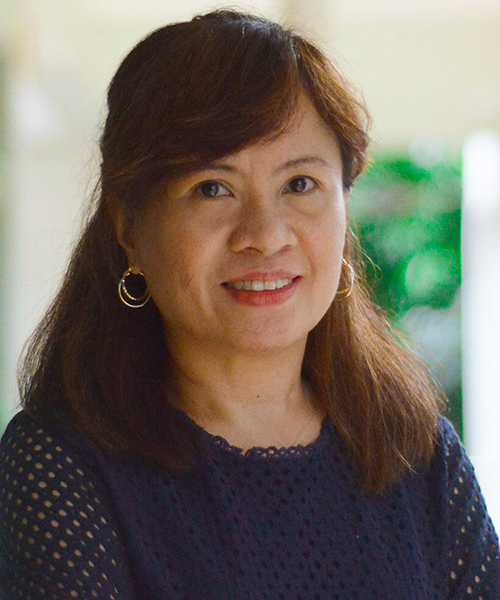 Perlita M. Frago-Marasigan is Associate Professor of Political Science at the Department of Political Science, University of the Philippines Diliman. She has been teaching at the department since 1999. She was also former Deputy Director of the UP Third World Studies Center (TWSC) from May 2000 to May 2003, October 2012 to April 2013, and June 2013 to June 2014.

Professor Frago obtained her Bachelor's degree in Political Science from the College of Social Sciences and Philosophy in 1991 and her Master's degree in Public Administration from the National College of Public Administration and Governance in 1999 from the same university where she teaches. From 2003 to 2006, she pursued her Doctor of Political Science degree at the Graduate School of International Cooperation Studies in Kobe University, Japan. Her dissertation is entitled "Environmental Politics and Discourse in the Philippines: The Clean Air Act of 1999." This study examines the political dynamics between the state, environmental non-governmental organizations and media and the critical role of discourse in shaping the landmark environmental policy, the Philippine Clean Air Act of 1999.

She has taught a variety of subjects in political science since 1999. These include Philippine government and politics, Philippine local and national administration, Philippine national and local administration, social, economic and political thought, qualitative research methods, Philippine political thought, comparative politics and the politics of media. Her research interests include media studies, civil society and globalization studies, and environmental studies. She has been involved in various research projects on the following themes: media and Philippine politics, civil society and the globalization discourse, disaster management, local governance improvisations and human security issues in the case of super typhoon Yolanda.

Her recent publications revolved around Typhoon Haiyan (Yolanda) and:1) the human security challenges of Palo and Tacloban, and;2) the disaster responses and improvisations in Palo, Leyte and Balangiga, Eastern Samar.

Education
Doctor of Political Science, Graduate School of International Cooperation Studies, Kobe University, 2006
Master in Public Administration, University of the Philippines, Diliman, 1999
Bachelor of Arts (Political Science), University of the Philippines, Diliman, 1991
Research Interests
Media Studies; Disaster Studies; Environmental Politics and Discourse; Civil Society and Globalization Discourse
Courses Taught
POL SC 11
POL SC 14
POL SC 141
POL SC 152
POL SC 167 (Special Topics Course: Politics of Media)
POL SC 170 (now 130)
POL SC 177 (now 137) (Special Topics Course: Identity Politics and Issues in Selected Third World Countries)
POL SC 110
POL SC 111
POL SC 196 (now 126)
Soc Sci 2

POL SC 252
POL SC 270
Recent Publications
Frago-Marasigan, Perlita M. 2019."The Haiyan Crisis: Empowering the Local, Engaging the Global." In Human Security and Cross-Border Cooperation in East Asia, edited by Carolina Hernandez, Eun Mee Kim, Yoichi Mine, Ren Xiao, 133-153. Switzerland: Palgrave Macmillan.

Frago-Marasigan, Perlita M. 2018."Renato Constantino." In Twentieth-Century Philippine Political Thinkers: Selected Readings, edited by Jorge V. Tigno, 336-341 , QC: UP Press.

Frago-Marasigan, Perlita M. 2014. "Ha Pagtindog han Bungto:Improvising Local Governance and Actual Utilization of LDRRMFs in Yolanda-Ravaged Leyte and Eastern Samar" Kasarinlan: Phillippine Journal of Third World Studies. 29 (2), 5-38. (actual publication 2017)