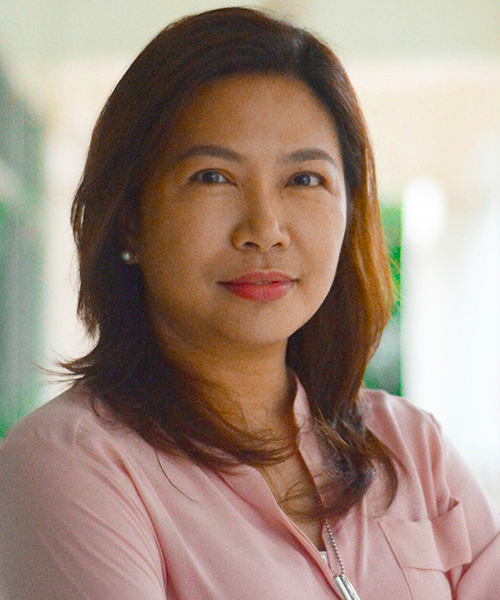 Jean S. Encinas Franco, PhD
Associate Professor of Political Science
.
Office: Room 304, Bulwagang Silangang Palma
Trunkline: (63 2) 981 8500 local 2380
Email: jefranco@up.edu.ph
Links: Research Gate | Google Scholar
Jean Encinas-Franco is currently an Associate Professor in the Department of Political Science, College of Social Sciences and Philosophy, University of the Philippines, Diliman. Before she entered the academe, she worked for 15 years at the Senate of the Philippines, where she was Director III of the Senate Economic Planning Office. She also lectured at the International Studies Department of Miriam College from 1999 to 2009 and was a Faculty Associate of its Women and Gender Institute. Her dissertation explores the politics of labour out-migration in the Philippines and the discursive representation of overseas Filipino workers (OFWs) as "modern-day heroes".
Education
PhD Political Science, University of the Philippines, Diliman, 2011.
Master in Public Administration, University of the Philippines, Diliman, 1997.
Research Interests
Gender and the politics of labor out-migration; legislative politics; women's rights
Courses Taught
Political Science 14 (Philippine Politics and Government)
Political Science 110 (Political Analysis)
Political Science 180 (Introduction to International Relations)
Political Science 199 (Research in Political Science)
International Studies 290 (Theories of International Relations)
Recent Publications
Encinas-Franco, Jean. 2016. "Filipino Women Migrant Workers and Overseas Employment Policy: An Analysis from Women's Rights Perspective". Asian Politics and Policy. 8:3, 494-501. Available at http://onlinelibrary.wiley.com/doi/10.1111/aspp.12269/abstract.

Encinas-Franco, Jean. 2016. "Promising Practices Emerging from the Recruitment Industry in the Philippines". In Case Studies in the International Recruitment of Nurses: Promising Practices in Recruitment among Agencies in the United Kingdom, India, and the Philippines. Davide Calenda, ed. Available at http://www.ilo.org/wcmsp5/groups/public/—asia/—ro-bangkok/documents/publication/wcms_459869.pdf.

Encinas-Franco, Jean. 2015. "Overseas Filipino Workers (OFWs) as Heroes: Discursive Origins of the Bagong Bayani in the Era of Labor Export. Humanities Diliman. 12:2, 56-78. Available at http://journals.upd.edu.ph/index.php/humanitiesdiliman/article/view/4907/4420.

Tigno, Jorge V. and Jean Encinas-Franco (co-author). 2014. The Language of Dictatorship in the Philippines: Marcos and Martial Law In Totalitarian and Authoritarian Discourses: Global and Timeless Phenomenon eds. Lutgard Lams, Geert Crauwels and Henrieta Anisoara Serban, Oxford: Peter Lang Publication. pp, 157-184.

Encinas-Franco, Jean. 2013. "The Language of Labor Export in Political Discourse: "Modern-day Heroism" and Constructions of Overseas Filipino Workers (OFWs) "Philippine Political Science Journal, 34:1, 97-112.

Encinas-Franco, Jean. 2013. Bagong Bayani and Migrante International: Is There an Alternative Discourse?. in J. Tigno (ed). Interrogating Migration: New Questions and Emerging Trends. Quezon City: Philippine Social Science Council and Philippine Migration Research Network. 96-117.