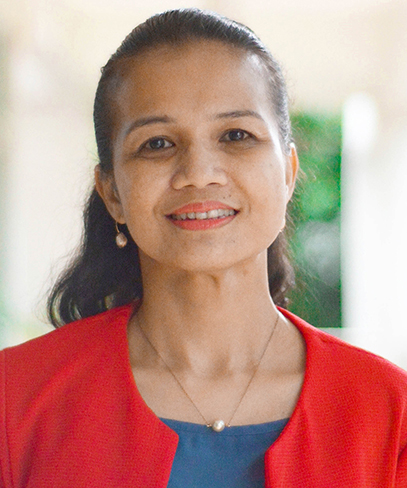 Maria Ela L. Atienza is Professor and former Chair of the Department of Political Science, University of the Philippines (UP) Diliman. She is also the Editor of the Philippine Political Science Journal, the Scopus journal of the Philippine Political Science Association, and Co-Convenor of the Program on Social and Political Change of the UP Center for Integrative and Development Studies. She also served as Director of the UP Third World Studies Center (2010-2013) and President of the Philippine Political Science Association (2007-2009).

She is recipient of the Gawad Chancellor for Outstanding Instructor (1999) from UP Diliman; first Young Scholar Dissertation Award (2006) from the International Society for Third Sector Research for her dissertation entitled "The Politics of Health Devolution in the Philippines with Emphasis on Experiences of Municipalities in a Devolved Set-up"; the Yasuhiro Nakasone Incentive Award (2007) from the Institute for International Policy Studies, Japan; Centennial Faculty Development Award (2011) from the UP Alumni Association-New Jersey Chapter; several Centennial Professorial Chair Awards from UP Diliman; and several International Publication Awards from the UP System. She is the 2014 National Research Council of the Philippines Achievement Awardee for the Social Sciences (Division VIII), One UP Professorial Chair Awardee for Teaching and Research (2016-2018), and One UP Professorial Chair Awardee for Research and Public Service (2019-2021).

She teaches graduate and undergraduate courses on qualitative research methods, political science research, comparative politics, and local politics. Her recently concluded research projects are on poverty alleviation in areas affected by super-typhoon Haiyan; performance assessment of the 1987 Constitution; and prospects for alternative institutional arrangements in Metro Manila for health service delivery in the midst of federalism and charter change debates. She is now doing research on the role of local civil society organizations in humanitarianism, assessments of the performance of the judiciary and local governments since 1987, and constitutional performance assessment of the 1987 Constitution during COVID-19. She headed the Department of Political Science's extension project "UP sa Halalan 2019", which aimed to provide more evidence-based data and information on election-related matters through social media, lectures, public fora, and media engagements.She is also active in training programs for social sciences and political science teachers, policy staff, development workers, personnel of government agencies, and local government officials as well as serving as resource person on political and social issues for several Philippine legislative committees, executive agencies, professional associations, the private sector, and various media.

Education
PhD Political Science, Graduate School of International Cooperation Studies, Kobe University, 2003
Executive Masters in European and International Relations (with distinction), Amsterdam School of International Relations (ASIR), University of Amsterdam, 1998
MA Political Science (Honors), University of the Philippines, Diliman, 1993
BA Political Science (Honors), magna cum laude, University of the Philippines, Diliman, 1992
Research Interests
Local politics and governance; devolution and central-local relations; human security; health policy and politics
Courses Taught
POLSC 11 (Introduction to Political Science)
POLSC 14 (Philippine Politics)
POLSC 110 (Political Analysis)
POLSC 111 (Qualitative Research Methods)
POLSC 154 (Philippine Local Politics)
POLSC 160 (Society, Government & Politics)
POLSC 133 (Politics of Selected European States)
POLSC 199 (Directed Research in Political Science)
POLSC 211 (Advanced Qualitative Research Methods)
POLSC 254 (Problems in Philippine Local Government and Administration)
POLSC 274 (Politics of European States)
Recent Publications
Atienza, Maria Ela L. and Quilala, Dennis. 2021. "The Role of Civil Society in Disaster Response—The Philippine Experience", pp. 79-83. In A. D. B. Cook and L. Gong (eds.), Humanitarianism in the Asia-Pacific: Engaging the Debate in Policy and Practice. SpringerBriefs in Political Science. Singapore: Springer. https://doi.org/10.1007/978-981-33-4874-5_14

Tan-Mullins, May; Eadie, Pauline; and Atienza, Maria Ela L. 2021 (Early View: 2 March 2020). "Evolving social capital and networks in the post-disaster rebuilding process". Asia Pacific Viewpoint 62 (1) (April 2021): 56-71. Available at: https://doi.org/10.1111/apv.12268

Eadie, Pauline; Atienza, Maria Ela; and Tan-Mullins, May. 2020. "Livelihood and vulnerability in the wake of Typhoon Yolanda: lessons of community and resilience". Natural Hazards 103 (1) (August 2020): 211-230. Available at: https://doi.org/10.1007/s11069-020-03984-z

Atienza, Maria Ela L. "The Philippines in 2019: Consolidation of Power, Unraveling of the Reform Agenda." Asian Survey, Vol. 60 No. 1 (January/February) (2020): 132-139. Available at: https://doi.org/10.1525/AS.2020.60.1.132

Atienza, Maria Ela L. "The Philippines in 2018: Broken Promises, Growing Impatience." Asian Survey 59, no. 1 (January/February) (2019): 185-192. doi: https://doi.org/10.1525/as.2019.59.1.185

Atienza, Maria Ela; Eadie, Pauline; Tan-Mullins, May. Urban Poverty in the Wake of Environmental Disaster: Rehabilitation, Resilience and Typhoon Haiyan (Yolanda). London: Routledge (Taylor and Francis Group), 2019. doi: https://doi.org/10.4324/9781315210056

Atienza, Maria Ela L. "Human Security in Practice: The Philippine Experience from the Perspective of Different Stakeholders", pp. 159-181. In Human Security Norms in East Asia, edited by Yoichi Mine, Oscar A. Gómez and Ako Muto. Palgrave Macmillan, 2019. doi: https://doi.org/10.1007/978-3-319-97247-3_7

Atienza, Maria Ela; Lusterio-Rico, Ruth; Arugay, Aries A.; Encinas-Franco, Jean; and Quilala, Dennis. Understanding Culture, Society, and Politics (for Senior High School). Quezon City: C & E Publishing, 2016.

Atienza, Maria Ela L. "People's Views about Human Security in Five Philippine Municipalities." Disaster Prevention and Management: An International Journal 24, no. 4 (2015): 448-467. url: www.emeraldinsight.com/0965-3562.htm , doi: https://doi.org/10.1108/DPM-12-2014-0277