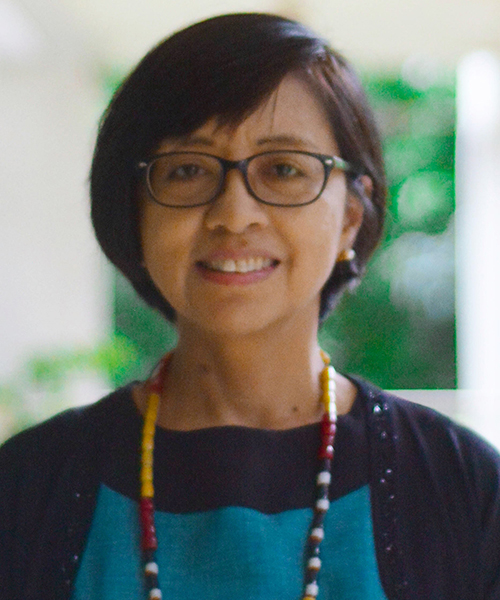 Miriam Coronel Ferrer, MA
Professor of Political Science
Office: Silangang Palma
Trunkline: (63 2) 8981 8500 local 2380
Professor Miriam Coronel Ferrer joined the Department in 1992 and previously served as the director of the College's Third World Studies Center and convener of UP's Program on Peace, Democratization and Human Rights under the UP Center for Integrative and Development Studies.

Prof. Ferrer chaired the government panel that negotiated and signed the Comprehensive Agreement on the Bangsamoro  (CAB) with the Moro Islamic Liberation Front on 27 March 2014.   From January 2018-January 2021, she was a member of the United Nations' Standby Team of Senior Mediators during which she provided mediation support to UN missions in Afghanistan, Iraq, Maldives, Kosovo, Georgia, Southeast Asia, among others.  She also supported various undertakings to advance women and youth inclusion in mediation and peace processes.

Recent awards received by Prof. Ferrer include the 2015 Hillary Rodham Clinton Award for Advancing Women in Peace and Security, the 2015 Xavier University-Ateneo de Cagayan Fr William F Masterson SJ Award, the 2014 United Nations Development Program N-Peace Award for Campaigning for Action, and the Gawad Lagablab awarded to outstanding alumni of the Philippine Science High School. She is also an alumnus of the Uppsala University's Peace and Conflict Studies Program and the Solomon Asch Center's Study of Ethnopolitics at the University of Pennsylvania.

Prof. Ferrer had served as visiting professor in several Asian universities, notably in Hankuk University and Sogang University in Korea, and Hiroshima University in Japan. She has provided mediation training support for the UN and various international NGOs. In 2020, she co-founded the Southeast Asian Women Network of Peace Mediators and Negotiators that was initiated with the support of the Ministry of Foreign Affairs of Indonesia. Currently, she sits in the Board of Advisers of the Global Network of Women Peacebuiders, the sounding board of the Swiss Women in Peace Processes, and the Experts' Advisory Group of the Conflict Resolution Treaty Initiative.

Education
MA in Southeast Asian Studies, University of Kent at Canterbury, UK
Research Interests

Democratization and human rights, peace processes, mediation and conflict resolution, discourse analysis
Courses Taught
Introduction to Philippine Politics;
Comparative Governments of Southeast Asia;
Human Rights and International Humanitarian Law;
Special Topics in Philippine and Southeast Asian Politics (undergraduate level);

Comparative Governments of Asia;
Special Topics – Peace Processes, Mediation and Conflict Prevention, Discourse Analysis (graduate level)
Recent Publications

Books

Miriam Coronel Ferrer (2020), Region, Nation and Homeland, Valorization and Adaptation in the Moro and Cordillera Resistance Discourses. Singapore: Institute of Southeast Asian Studies, 242pp.

Miriam Coronel Ferrer (2013), Costly Wars, Elusive Peace, Collected Articles on the Peace Processes in the Philippines, 1990-2007. Quezon City: University of the Philippines Press, 359 pp.

Miriam Coronel Ferrer (2005), Framework and Synthesis of Lessons Learned in Civil Society Peace Building, Volume 1, Learning Experiences Study on Civil-Society Peace Building in the Philippines. Quezon City: University of the Philippines Center for Integrative and Development Studies and the United Nations Development Programme, 2005.

Miriam Coronel Ferrer, ed. (1999). Sama-Sama, Facets of Ethnic Relations in Southeast Asia. Quezon City: Third World Studies Center, University of the Philippines, 1999.

Book Articles

Miriam Coronel Ferrer (2018), "Remigio Escalona Agpalo: The Organic-Hierarchical Paradigm and the Pangulo Regime" in Jorge V. Tigno (editor), Twentieth-Century Philippine Political Thinkers: Selected Readings. Quezon City: University of the Philippines Press.

Miriam Coronel Ferrer (2016), "Forging a Peace Settlement for the Bangsamoro: Compromises and Challenges" in Paul Hutchcroft (ed.), Mindanao The Long Journey to Peace and Prosperity. Mandaluyong, Metro Manila: Anvil Publishing, 99-131.

Miriam Coronel Ferrer (2012), "The Peace Process under the GMA Administration" in The Macapagal-Arroyo Presidency and Administration (2001-2010). Quezon City: UP National College of Public Administration and Governance, 171-206.

Miriam Coronel Ferrer (2010), "From Rebels to Governors: 'patronage autonomy' and continuing underdevelopment in Muslim Mindanao" in Huhua Cao and Elizabeth Morell (eds.), Regional Minorities and Development in Asia. Oxon and New York: Routledge, 2010, 19-42.

Miriam Coronel Ferrer (2007), "The Communist Party of the Philippines," in Andrew T.H. Tan (ed.), Handbook on Terrorism and Insurgency. Cheltenham, UK and Northampton, Massachusetts: Edward Elgar.

Journal Articles

Miriam Coronel Ferrer (2011), "To share or divide power? Minorities in autonomous regions, the case of the autonomous region in Muslim Mindanao," Ethnic and Racial Studies (2011), DOI:10.1080/01419870.2011.605901.

Miriam Coronel Ferrer (2004), "The Philippine State and Civil Society Discourse and Praxis," Korea Observer, 35:3 (Autumn).